Past Manitoba Sea Cadet, Officer & Navy League Member Honoured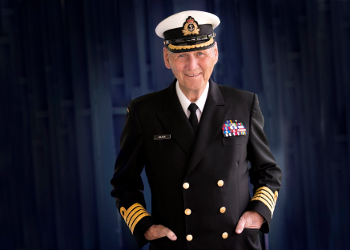 Capt(N) Bill Wilson, 2013.
Retired Captain (N) William H. Wilson, O.M.M., C.D., who is a past Manitoba sea cadet, officer and Navy League member, was recently honoured for a lifetime of commitment to the Royal Canadian Navy when a plaque in his honour was unveiled at the Naval Museum of Alberta, in Calgary (See the September 9, 2017 Facebook post by Commander Royal Canadian Navy.)
Capt(N) Wilson was born in Winnipeg in 1924. At the outbreak of World War II, in September 1939, Bill joined the Sea Cadet Corps John Travers Cornwell VC. When he reached the age of 18, Bill joined the Royal Canadian Navy Volunteer Reserve in Winnipeg and served as a seaman gunner aboard HMCS Ottawa until the end of the war.
After the war, Bill returned to Winnipeg and to RCSCC John Travers Cornwell VC, where he eventually served as Commanding Officer of one of JTCVC's ship's companies. He also joined the Naval Reserve on HMCS Chippawa as a Sub Lieutenant. Though Bill's work with the CPR eventually took him across the country, Bill continued with his Naval Reserve service, serving on HMCS Donnacona, in Montreal, HMCS York, in Toronto, and HMCS Techumseh, in Calgary. Throughout his journey he also continued his work with The Navy League of Canada.
Some of the awards Bill has received over the years are: Admirals' Medal in 2008, The Robert I. Hendy Award in 2013 and The Alberta Order of Excellence in 2013. You can read a comprehensive biography of Bill Wilson's truly impressive life on the Alberta Lieutenant Governor's Alberta Order of Excellence website.