New JTCVC Corps Badge Painting Unveiled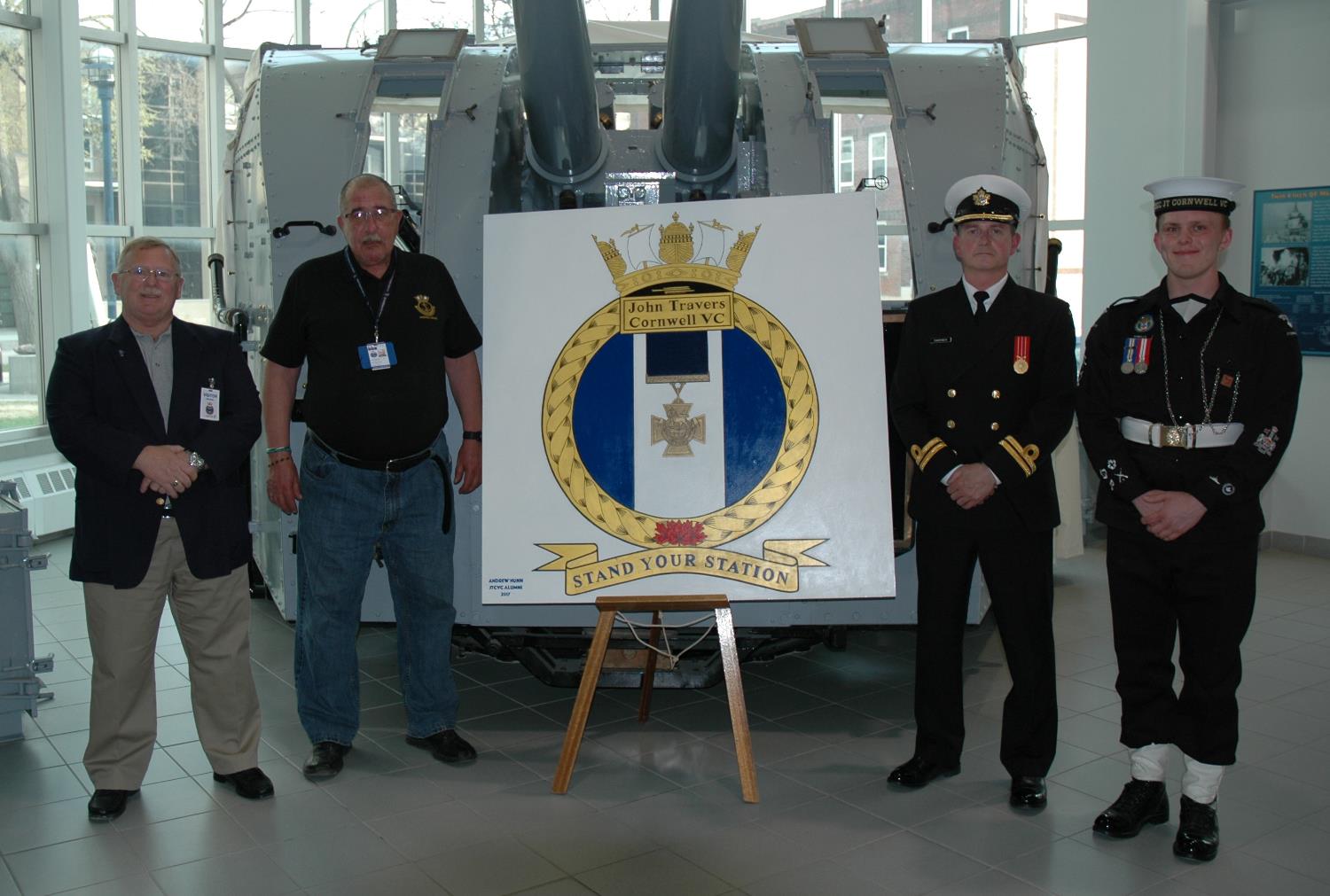 Presenting the new Corps Badge painting on the quarterdeck deck of HMCS Chippawa, May 4, 2017.
Andy Huhn, Larry Schenkeveld, Lt(N) Kevin Daeninck & CPO1 Riley Howells.
Royal Canadian Sea Cadet Corps John Travers Cornwell VC unveiled a new painting of their corps badge at Ceremonial Divisions on Thursday. The Alumni, represented by Larry Schenkeveld, Cornwell (Winnipeg) Branch President, and Andy Huhn, artist, formally presented the painting to the Corps. The commanding officer, Lt(N) Kevin Daeninck, and the coxswain, CPO1 Riley Howells, accepted the painting on behalf of the Corps.
In May of 2020, RCSCC John Travers Cornwell VC will celebrate their 100th anniversary as a sea cadet corps. The Alumni, a sub-committee of the Cornwell (Winnipeg) Branch of The Navy League of Canada, has set up an Anniversary Steering Committee (ASC) to plan and prepare for the anniversary celebrations. The ASC felt that the current painting of the corps badge, which hangs in the parade deck of HMCS Chippawa, should be updated prior to the anniversary, as the current one had started to fade.
Richard Hunt (alumni 1967-1978), undertook a project to determine the history of, and the correct colours for, the corps badge. Once Rick had presented his findings to the ASC, Alumni Chairman, John Jamison (alumni 1966-1972), started searching for an artist to paint the corps badge. During the Corps 2016 Annual Ceremonial Review, Rick Hunt struck up a conversation with Andy Huhn [Owens] (alumni 1970-1975), who revealed he had been painting since 2014. Andy, it turned out, is an accomplished and award-winning painter. He has secured commissions from across North America and in 2016 he won the Creative Arts Extravaganza People Choice Award at the Red River Exhibition.
In November 2016, Andy brought an 8" X 10" sample painting of the corps badge to an ASC's meeting. The quality of this sample painting was such that the ASC immediately and unanimously agreed to commission Andy to paint a full-sized, 4 foot by 4 foot, painting of the corps badge. Over the next five months Andy spent over 570 hours completing the painting (you can see photographs of the painting's progress on the JTCVC Alumni's webpage at http://jtcvcAlumni.ca/projects_corps_badge.htm).
Now that the painting is complete and has been formally presented to the corps, the old painting will be retired and the new painting will proudly take its place on HMCS Chippawa's parade deck wall. You can look for it there when the new cadet year begins in September 2017.